Rounding up the most expensive clothings brands in the world may seem like an odd choice for a blog that mostly focuses on affordable and accessible menswear, but there are two reasons why these brands are worth knowing about.
First, a lot of the more affordable brands I usually talk about – like J.Crew, Banana Republic, and pretty much any store that might be found at your local mall – take some of their cues from the world's major fashion houses, which tend to lead the way in terms of designs, styles and trends.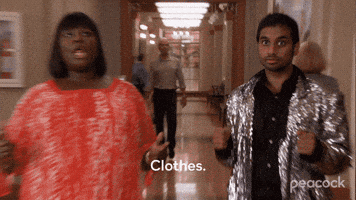 Second, while it may not be advisable long-term, it can be fun to splurge every once in awhile.
And – to borrow a phrase from my favorite residents of Pawnee, Indiana – there are few better ways to treat yo' self than by shelling out a few extra bucks for high-quality pieces from some of the world's most expensive luxury brands.
So whether you're looking to expand your sartorial knowledge or just upgrade your wardrobe, below you'll find some of the most expensive clothing brands in the world.
Mo' Money, Mo' Prada
What Are The Most Expensive Clothing Brands?
Based in Florence, Italy, Gucci is probably best known for its women's handbags, shoes and accessories.
But don't let its rep for womenswear fool you: the brand also offers a full line of menswear, along with non-clothing products like home decor and beauty products.
---
Another Italian brand (a lot of the most expensive clothing brands and luxury brands are Italian), Bulgari specializes in accessories.
It's best known for its line of jewelry and watches, but also offers everything from leather accessories like bags and wallets to fragrances like cologne and perfume.
---
Moving from an Italian brand to a French one, Louis Vuitton was named the world's most valuable luxury brand by Forbes for six consecutive years from 2006 to 2012, and is still considered both one of the most luxurious and most expensive clothing brands in the world.
Founded by Louis Vuitton as a line of flat-top trunks back in 1854, the brand is still known for its famous line of luggage today, but also carries full lines of men's and women's clothing and accessories.
---
Brion is an Italian fashion house owned by a French holding company (turns out a lot of the most expensive clothing brands are French, too) that specializes in couture menswear.
Named for the Brionian islands, which were formerly part of Italy but now belong to Croatia, the brand started in 1945 as a men's tailoring company.
Today it's grown into both one of the most expensive men's clothing brands in the world, and one of the most coveted.
---
Famously founded by Giorgio Armani in 1975, Armani the designer is considered one of the most successful Italian designers of all time.
His eponymous fashion house, meanwhile, remains one of the most luxurious brands.
The flagship brand, Giorgio Armani, specializes in ready-to-wear fashion for both men and women, along with accessories, glasses and fragrances.
There are also a number of other Armani brands (Emporio Aramani, Armani Exchange, etc.), which tend to offer less expensive options.
---
And speaking of famous Italian designers…
Versace was founded in 1978 by Gianni Versace, before famously being taken over by his sister Donatella upon Gianni's death in 1997.
The brand began by offering luxury Italian ready to wear clothes before expanding into accessories, jewellery and even home furnishings.
---
You're not going to believe it: Prada is another luxury Italian designer that ranks among the planet's most expensive clothing brands.
(The Italians like to live large.)
Best known for its leather handbags, today Prada dabbles in pretty much every aspect of the clothing world, from ready-to-wear pieces to travel accessories, shoes and more.
---
Depending on who you ask, Ralph Lauren is either best known as one of the all-time most iconic makers of upscale Americana fashion, or as Rachel Green's erstwhile employer.
The clothes in RL's Ralph Lauren Collection and Purple Line cost a pretty penny, but are very much worth it.
---
Founded by Christian Dior in 1946, Dior is a French fashion company that today has three separate brands.
The brand that bears the full name of its founder, Christian Dior, specializes in women's fashion.
There's a separate brand for men, Dior Homme, and a third for (extremely fashionable) children, Baby Dior.
(All three brands are available through the company's main Dior.com website.)
---
An anomaly among a sea of Italian and French designers, Oscar de la Renta was a designer from the Dominican Republic.
He first rose to fame in the 1960s, as one of the haute couture designers who dressed Jacqueline Kennedy.
Still known as one of the world's top dress makers, today de la Renta's namesake brand sells everything from wedding gowns to belts and scarves.
---
Suit-maker to no less a luxury icon than 007 himself, Tom Ford is one of the world's top fashion designers.
And his eponymous brand is both one of the world's most expensive clothing brands, and one of its most coveted.
Where some of the brands on this list exclusively focus on a specific type of clothing, or a specific gender, Ford has a full line of clothing and accessories for both men and women, which offers just about everything under the sun.
---
Another French high-fashion house, Hermès opened its doors weigh back in 1837 with a line of luxury goods.
Today it offers a pretty wide selection ranging from leather goods and lifestyle accessories to perfume, clothes and home furnishings.
---
Famously founded by Coco Chanel in 1909, the Chanel brand that still bears her name has been a staple of women's high fashion for more than a century.
Known for its iconic perfume, Chanel No. 5, the brand is both a historic pioneer and a modern powerhouse.
Today Chanel offers everything from haute couture fashion and fine jewellery to makeup, perfume and more.
---
Best known for their timeless, classic (and incredibly stylish) trench coats, Burberry is a London-based luxury brand that sells everything from clothes to cosmetics.
Founded in 1856 by Thomas Burberry, the brand originally focused on outdoor attire (hence the specialty in trench coats).
But it's long been a staple of the high fashion world; in fact, their famous tartan is one of the world's most recognizable patterns.
---
Yet another famous Italian fashion brand, D&G was founded by designers Domenico Dolce and Stefano Gabbana in 1985.
While they started by offering a line of women's wear, underwear and swimsuits, today they sell clothing, footwear, handbags, sunglasses, watches, jewellery and fragrances, for which they've won multiple awards.
---
Founded as a fur and leather shop in 1925 by married couple Adele and Edoardo Fendi, Fendi remained a family-controlled company until 1999, when Prada and Louis Vuitton bought a 51% stake.
Today the brand has expanded far beyond fur to offer just about every form of clothes and accessories for both men and women.
---
Stop me if you've heard this one before: Valentino, one of the most expensive clothing brands in the world, is from – you're not going to believe it – Italy.
Founded by Valentino Garavani in 1960, today Valentino offers a full range of clothes and accessories (again, not unlike other brands on this list).
But it's probably best known as a dressmaker who's outfitted everyone from Anne Hathaway and Jennifer Lopez to Elizabeth Taylor and the Princess of Sweden.
---
Givenchy is a French fashion house specializing in haute couture, which also has a line of cosmetics and fragrances sold under its Parfums Givenchy brand.
The brand had aristocratic aspirations right from the start:
It was founded in 1952 by Count Hubert James Marcel Taffin de Givenchy (seriously—an actual count), who designed clothes for the likes of Audrey Hepburn and Jacqueline Kennedy.
---
Spanish brand Balenciaga began in 1917 in San Sebastian, founded by Spanish designer Cristóbal Balenciaga.
As a designer, Balenciaga was so exacting that Christian Dior once called him "the master of us all."
The brand actually went under in 1972, but it was revived and reopened by new ownership in 1986, and has ranked among the world's most luxurious and expensive brands ever since.
---
Founded in 1961 by Saint Laurent and his partner Pierre Bergé, YSL rose to fame in the '60s when it popularized looks that we now consider iconic.
(If you can picture "beatnik style" or "safari jackets" in your head, you have YSL to thank.)
Today the brand sells a full line of ready-to-wear clothes for both men and women, along with shoes, jewellery and leather goods.
---
Though the list ends with another brand named for its Italian founder, this time there's a twist:
Ferragamo actually emigrated to the U.S. in 1914 and opened his first Hollywood Boot Shop in 1923, where he sold boots to movie stars like Joan Crawford.
He then made his way back to Italy, where his brand became one of the premier fashion houses, known for its innovative designs and ingenuity in choosing materials.
---
You Know The Most Expensive Clothing Brands
Now Learn The Secrets of Sharp Style
Now that you've been introduced to some of the most expensive clothing brands in the world, you'll know where to turn when you're ready to treat yo' self to a few high-end pieces.
But the (handsome) devil is in the details, which means that whether your clothes cost 10 bucks or 10 grand, the real key to looking sharp and standing out is knowing how to wear your purchases to perfection.
You don't need the most expensive clothes to out-dress the other guys, but you do need to know how to nail the seemingly small but crucially important details that add up to make a big impact on your look.
Enter your email address below and I'll send you a head-to-toe checklist that outlines the nine most important details you need to nail in order to make a sharp and stylish impression on other people.
Don't Let the Other Guys Out-Dress You

Find out how to look sharp and stand out.
Enter your email address below to discover the Nine Details You Need to Nail.

I will never send you spam. Unsubscribe at any time.
More Resources:
More Lists of Expensive Clothing Brands from Around Ye Olde Interwebs:
Banner image via @svetlanasokolova on Freepik